Call Centers Operators Drive your Sales & Profits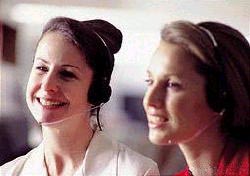 Our world-class Customer Service Representatives [CSRs] are multilingual professionals who manage your business with the same dedication as your own staff.
.
From catalogs to Web orders, our CSRs maximize your revenues and profits by ensuring each transaction is fast and accurate. They also cross-sell and up-sell your customers, whether they are B2C, B2B or Affiliates.
More
.
The Right Answer to your Needs Our CSRs work from custom scripts designed to maximize your sales revenues. Their terminals are networked to ensure consistent quality and unlimited call capacity. Whenever spike volumes require additional CSRs, the call load is automatically distributed throughout the network to capture every order and maximize your revenues and profits.
.
All your customer transactions are captured and processed from the same screen scripts. Credit card payments are processed in real time. Funds are deposited into your merchant account, by the time orders are packed and ready to ship.
More.

Call Center statistics are merged with order data from all other sources before flowing back into your business management applications. The market intelligence allows you to adjust your marketing strategies while optimizing inventory production and distribution.
.

Our Full Range of Services Includes
Professional Multilingual CSRs
Source code tracking
Inbound & outbound calls 24 / 7
Custom scripts & applications
Order processing
Telemarketing
Up-sell, cross-sell
Market research
Customer service - live, email & chat
Technical support
Realtime credit card processing
Dealer locators
Check-by-phone
Information requests
Returns & restocking
Messaging center

Email this page
Contact us
Secure Web Commerce Center